RAIN YOU CAN WEAR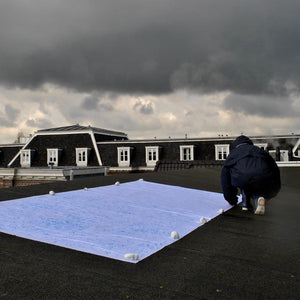 Sometimes it's hard to see the upside of April showers (other than the promise of eventual May flowers), but what if we endeavored to truly enjoy the beauty of a rainy day?
Aliki van der Kruijs is a groundbreaking Dutch designer who has created the Made by Rain project, an elemental concept in which rainfall is permanently recorded on a textile surface. To accomplish this, she has pioneered a new technique called 'pluviagraphy.'
At a young age, Aliki inherited calendars from her grandfather that meticulously described the weather on every single day of the year. He created a detailed collection of weather data that covered the span of twelve years. This inheritance sparked Aliki's fascination with rainfall.
After years of researching weather on her own, Aliki noticed that rainfall in the Netherlands had increased by 4% since the 1950s due to climate change. Instead of using conventional weather charts, satellites, and graphs, Aliki van der Kruijs wanted to display her findings in a more artful way, something that would visually grab the attention of viewers: "Using a film coating sensitive to water, it became possible to create a visual recording of rainfall on a filmed piece of textile. Whether it is a soft drizzle or a tropical downpour, the type of rain creates a unique print."[1]
To start conversations and to celebrate the distinctive beauty of the pluviagraphy method, Aliki developed a product line including porcelain platters and silk scarves. Each Made by Rain piece comes with a handmade notation of the location, date, time interval, millimeters of rain, and weather circumstances under which the pluviagraphy was done. Altogether, her textile designs form a collection of weather data: visual recordings from a specific day in history.
Unique in design and concept, Aliki van der Kruijs' Made By Rain project has paved a new way for designers and customers to explore our relationship with nature.
Posted by Angel
SHOP BLOG is written by the sales associates of SHOP Cooper Hewitt, bringing their singular design expertise into the digital realm.