PUTTING PEN TO PAPER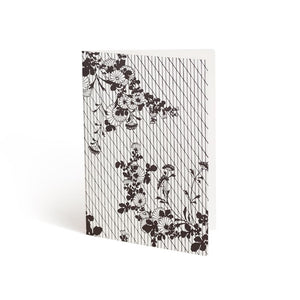 I'm guilty… I love the speed and ease of digital communication. My smart phone is permanently attached to my hand. Emails and texts are my main way of keeping in touch with friends and family.
But when that occasional handwritten note comes in the regular mail, it evokes a feeling you don't get from a screen. Opening an envelope, the feel of fine paper in your hands, and most importantly, knowing that someone took that extra time and thought of you, is palpable.
Likewise, when I send someone a note, I know that if I write and address it by hand, choose a favorite stamp, seal it in an envelope, and make a trip to the mailbox, it will feel more special, intimate, and thoughtful.
I remember getting my first box of stationery when I went away to sleep away camp. Back then, writing letters was the only way to stay in touch with family and friends that you wouldn't see for 8 weeks… a lifetime for a 9 year old. Plus, campers were required to write letters before we would get candy treats. Surprisingly, my mother kept all my letters from camp. Having those note cards and being able to re-read them now is priceless, which is why I hope the tradition of letter writing lives on.
SHOP Cooper Hewitt always carries a beautifully curated assortment of stationery and note cards. However, my absolute favorite, and one of our bestsellers, is our series blank Katagami greeting cards.
As timeless as writing a personal note, Katagami is a traditional Japanese craft dating back at least to the 16th century. Katagami literally translates into "paper stencils," which were used by master craftspeople to decorate textiles.
Creating Katagami stencils is an extremely intricate and labor-intensive process. Layers of hand-made mulberry papers are laminated together and then immersed in the fermented juice of unripe persimmon fruit, which makes the paper stencil water resistant and rigid. The resist-dyeing process is called Katazome.
Intricate designs, inspired by nature, are then cut into the paper using fine-edged cutting tools. A lattice of silk threads holds the delicate motifs in place during the dyeing process. Among the most popular patterns are chrysanthemums, arabesque filigree, cranes, and fish.
While the stencils are used to print onto textiles, the stencils themselves are also considered works of art and exhibited in museums around the world. Cooper Hewitt has several Katagami stencils in our permanent collection, and a few of these stencils were reimagined to create the exclusive note cards we sell in the SHOP.
I encourage you to pick up some of our special Katagami notecards and send a handwritten note to a friend, to let them know how special they are to you.
Posted by Cindy
SHOP BLOG is written by the sales associates of SHOP Cooper Hewitt, bringing their singular design expertise into the digital realm.