PERFECTLY PLUSH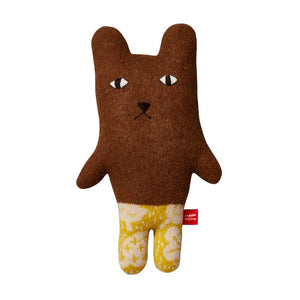 There has probably never been a better time for fuzzy friends, and few designers make stuffed animals with as much personality and warmth as Donna Wilson.
Donna Wilson has been crafting creatures, cushions, and knitwear since 2003 but her inspiration calls back to her childhood on a farm in rural Aberdenshire, Scotland. She started crafting sculptures out of twigs and branches, building a love for nature that continued as she learned how to felt, sew, and knit.
Eventually Donna left the farm for the Royal College of Art, London where she made her first stuffed animals and began to market them to local stores.
Today, Donna and her team of talented craftspeople create plush characters in her East London studio and a few intrepid creatures have made their way across the pond to the shelves of SHOP Cooper Hewitt. 
Our plush friends bring a lot of positive energy and remind us of the joys of nature, play, and creativity.
Posted by Joseph
SHOP BLOG is written by the sales associates of SHOP Cooper Hewitt, bringing their singular design expertise into the digital realm.