CHEERING UP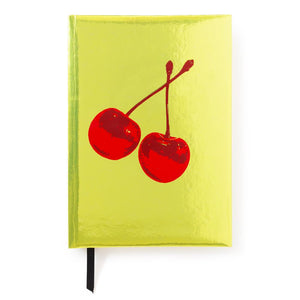 For those of us who have been living that WFH (work from home) life for a year and starting to feel a little burnout, cheerful office supplies can be a balm.
And what's more cheerful than cherries? The Cherry Forever Scented Notebook is your ultimate WFH accessory. Delight in its high gloss cover made from Flavor Paper's cult favorite Cherry Forever wallpaper (part of Cooper Hewitt's permanent collection). Rely on its sturdy hardcover design while you jot down your notes and epiphanies. And once the Zoom fatigue really starts to take a toll, scratch the cherries on the cover to release a cherry fragrance sure to bring back memories of summers past. 
Speaking of Zoom, you can even set Cherry Forever as your digital background. That's right, sync your material and digital environment by creating a cherry sensory utopia. Maybe we can have it all in 2021.
Posted by Joseph
SHOP BLOG is written by the sales associates of SHOP Cooper Hewitt, bringing their singular design expertise into the digital realm.